(717) 259-9596 • East Berlin, PA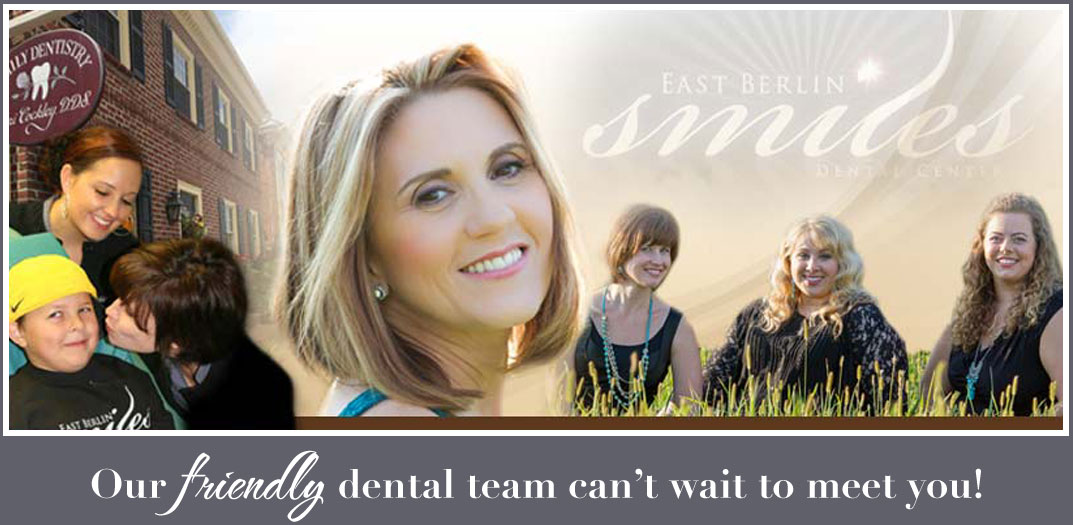 We Earn Your Trust and Give You Reasons to Smile
At East Berlin Smiles, we know you and your family will receive the best dental care from us when there's a bond of trust, and we start forming that the moment you walk in the door. Our team works in partnership with you to achieve your dental health goals and a beautiful smile.
Your questions and concerns are of utmost importance, so we address them right away, making sure you're comfortable with every decision before we proceed. If you've ever had anxiety over treatment, let us know. We can ease that anxiety and make each visit calm and comfortable. Our compassion and understanding will eliminate any potential embarrassment over a dental issue or tension because of past trauma at a dentist's office. You'll appreciate our team's level of care.
"Excellent, professional dentist and staff. We wish that we had found Dr. Cockley's practice many years ago!"—Ronald C.
Let us welcome you to your new dental home. Give us a call today at (717) 259-9596 to schedule a visit!
Contact
East Berlin Smiles
Lori Cockley, DDS, MAGD
418 West King Street
East Berlin, PA 17316
(717) 259-9596
Monday 7am - 7pm
Tuesday 7am - 7pm
Wednesday 7am - 7pm
For door to door directions, click "View larger map."
The dentist at East Berlin Smiles in East Berlin PA provides the following dental care services: Cosmetic Dentistry, Childrens Dentistry, Dental Implants, Botox, Juvederm, NTI Migraine Treatment, Family, Preventive, Restorative, and General Dentistry. Our services include: Smile Makeovers, dental crowns, porcelain veneers, DURAthin veneers, dental veneers, dental bridges, dental bonding, smile makeovers, white dental fillings, implants, tooth colored fillings, teeth whitening, NTI Migraine Treatment, laser scanner, digital imaging, dentures, children's dental care, dental examinations, oral hygiene care, kids dentistry,checkups, xrays.
Our dentist pleased to provide our dental treatment services in the following surrounding areas: East Berlin, Hanover, Abbottstown,
New Oxford, Thomasville, Lake Meade, Biglerville, Wellsville, Hampton, York Springs, Dover, Spring Grove, Dillsburg PA.